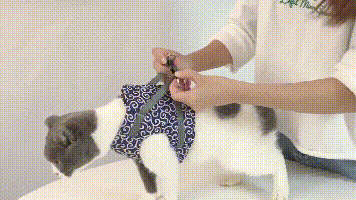 1. Open the vest on a flat surface with its insides facing upwards. 
2. Put your cat's front paws on the two holes available. 
3. Raise the vest between your cat's paws and strap on the nylon clasp
4. Pull the seat belt buckle until it is well adjusted. 
5. Hook the leash on, and you are ready to go.
NOTE:  If your cat is new to harnesses, do not force it to avoid injuries. Also try rewards and treats to get your cat to warm up to the idea of harness use.